Summary: A Home for Cerebral Palsy and other brain disabled persons, sponsored by their own families, is a necessity. The Handicapped Children's Parents Association of New Delhi (India) shows the way. Last updated 14 June, 2006

Home for CP: Building at Pappankalan, New Delhi (near Airport), has come up and some activities have already started there. Click here to visit their website.
A project of: HANDICAPPED CHILDREN'S PARENTS ASSOCIATION
Handicapped Children's Parents Association (HCPA) is a voluntary organization registered under the societies registration act 1860. It was formed in 1987 by a group of parents of children with cerebral palsy.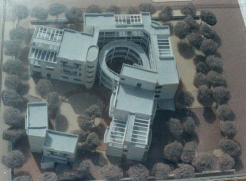 Cerebral Palsy (a kind of damage to the brain) forces the affected person to depend on others for even the very basic needs of life like - walking, toileting, communicating, feeding etc. etc. They have a normal life span and need training and education more than the normal children, as they have to combat their disabilities also. CP as such is not a disease. This is a condition. But unfortunately, this can not be reversed. The victim has to bear it through out the life.
During their life time the parents take best care of their wards. However, they are constantly tormented by questions like - "Who / What after us"? HCPA has been formed to provide answers to the above.
Aims and Objects
Set up and Maintain HOMES for CP
Undertake all activities, which will ensure the care, welfare and maintenance of CP
Undertake all activities, which will help and support the parents/guardians in taking better care of their CP children
Arrange and manage SOCIO-ECONOMIC facilities for CP
Collect information, undertake research and initiate action for developing National Policies for the betterment of CP
Accept grants and donations for furthering the above
Management
Routine affairs of HCPA are managed by an elected body of 15 members. Elections are held every year. All members of HCPA are entitled to contest the election and cast vote. No person can hold the same office for more than two successive terms.
Accounts are audited by Statutory Auditors. The same are filed with relevant government authorities on regular basis.
Present Activities
At present the Association has more than 150 members from all over the country. All members are parents of CP. Member ship is open to all parents / guardians of CP without any discretion of caste/ religion / social /economic status etc.
UDAAN is a sister concern of HCPA. It is a day care center cum therapy center, catering to CP children's vocational, educational, occupational training and interventional therapies is being run by the Foundation for Spastic and Mentally Handicapped Persons in Delhi. The center is helped and partially aided by HCPA.
A number of awareness creating events have been organized. Eminent personalities have participated in such events. These include - The Lt. Governor of Delhi, Central Ministers, Chief Election Commissioner of India, Judges of the Delhi High court, The Deputy Chairperson of the Rajya Sabha, Dr Karan Singh, Foreign Diplomats.
Eminent artists like - Ms Uma Sharma, Pt Kishan Maharaj, Ustad Zakir Hussain, Raja and Radha Reddy, Leela Samson, Geeta Chandran, Saroja Vaidyanathan, Anup Jalota, Pt Laxmi Shankar etc. have performed for benefit shows.
A number of branches of the ROTARY, Inner Wheels, Round Tables etc and a large number of schools all over Delhi have helped us in raising funds for the dream project - HOME for CP.
Construction of the first Home for CP on a plot measuring 1.25 acres in Delhi is complete and a day care facility plus respite care home has already started. Reputed Architects and Engineers - "Kanvinde Rai and Chowdhary", have designed the HOME.
Project Details
The Home shall have a covered area of 50 thousand sq. feet.
It will provide residential accommodation for up to 96 CP who outlive their parents or whose parents are physically incapable of handling them.
It will help the parents to acquire skills to handle such children.
Day care facilities shall also be provided for the Spastic children of working parents.
Facilities also include work shop, rehabilitation, therapy, library, sick room etc. Eminent doctors shall visit on regular basis for routine medical check up and advice.
The Spastic Society of Northern India has provided full support for the project. All trained staff shall be provided by it to run the HOME.
Costs and Finances
The total project cost is estimated at Rs. 56 million.
A sizable part has already been collected through donations from the public. Efforts are being made to get donations from the NRI community, the state and the corporate section. The response has been very encouraging.
Support from the Government of India
Government has allotted land at a highly concessional price.
Project has been evaluated and approved by the Department of Social welfare.
Donations to HCPA have been exempted from Income Tax u/s 80G and u/s 35 AC of the Income Tax Act, 1961.
The Association has been granted permission to receive donation from overseas.
Project Highlights
| | |
| --- | --- |
| Location | 13 A (Institutional), Sector 5 Dwarka, New Delhi |
| Plot area | 5002.5 Sq. Meters |
| Total Covered area | 50,000 Sq. Ft. |
| No. of Floors | Four |
| Architects | Kanvinde Rai & Chowdhury, F-14 Connaught Place, New Delhi 110 001 |
| Contractors | Thomas and Company Pvt. Ltd., A-9-60A Kalkaji Extn., New Delhi 110 019 |
| Auditors | S K Vohra & Co. |
| Bankers | ICICI Bank, Hongkong Bank, Oriental Bank of Commerce |
Sponsorship Options for Donors
Facility Description
Nos.
Sponsorship
Cost / unit
Lift
1
20,00,000
8 Bed Dormitory
4
10,00,000
Genset
1
8,00,000
Dining-Conference Room
1
6,00,000
Ramp for one floor
3
5,50,000
Workshop
1
4,00,000
Day Care Centre
1
4,00,000
Library Room
1
4,00,000
Visitor's Lounge
1
3,50,000
Office complex
1
3,50,000
Recreation Room
1
3,50,000
Twin Shared Room
32
3,20,000
Pump House
1
3,00,000
Transport Maruti Vans
2
3,00,000
A tree in the complex
20
5,000
NOTE: Donations to HCPA are 100% exempted from Income Tax U/s 35 AC of IT Act, 1961.
Donations by Cash / Cheque / Bankers' Cheque / Demand Draft drawn in favor of "HCPA" may be forwarded to :
Handicapped Children's Parents Association
2 Balbir Saxena Marg, Hauz Khas, New Delhi 110 016 INDIA
E-mail : hcpaindia@yahoo.com
Phone : 91+11+26528542

Site Office
Home For CP
Sector 5 Dwarka, New Delhi 110045
Phone +91+11+5088188

Secretary : Ashok Kumar; +91-11- 26898614 (R)
President : Rajendra Singh; +91-11- 26448909 (R)
---
Contact Person:
Please help us avoid Virus attacks / Spam. Ensure that your letter has a Subject line with a meaningful header mentioning UDAAN otherwise our filter may send the letter to Trashcan.
Intra-site Search Engine