| | | |
| --- | --- | --- |
| | | |
Last updated October 15, 2017
---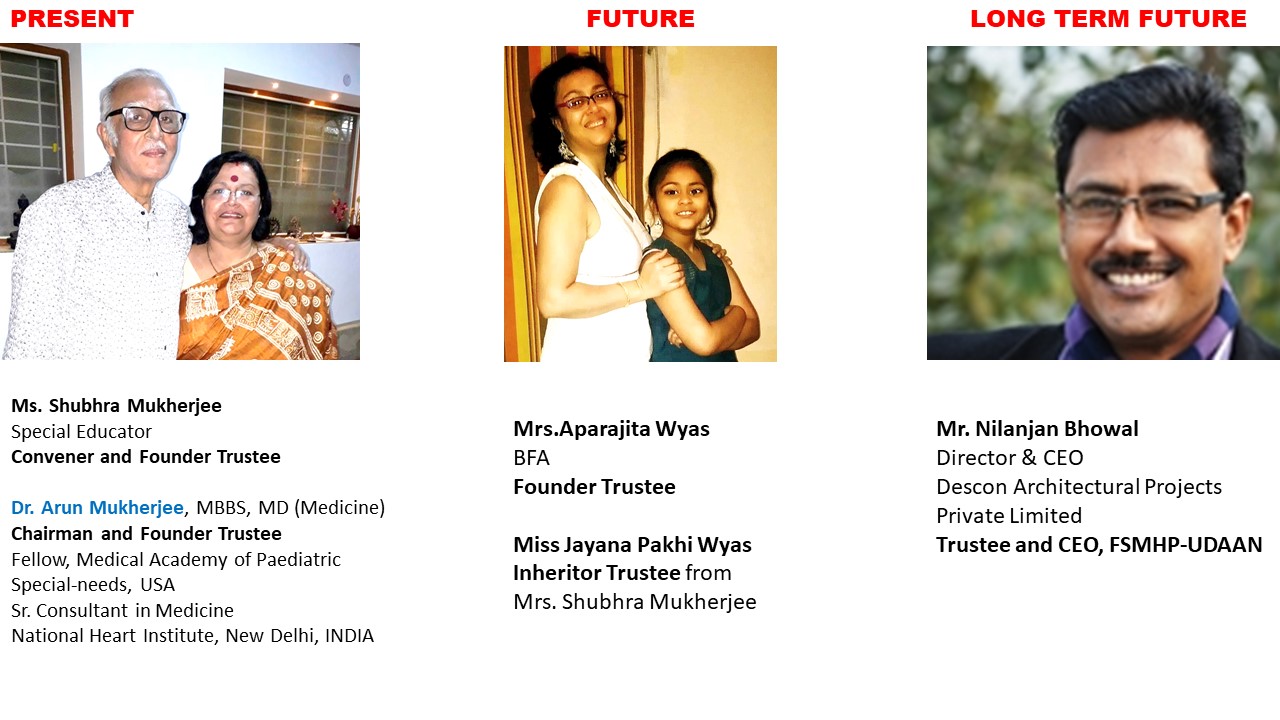 Mrs. Shubhra's school started as a single-handed project from her house.
As time went on, UDAAN grew from strength to strength, gaining National and International recognition, as a brief glance on our CV shows:

CV of UDAAN
1992: UDAAN Started
1994: Registered as Non-Profit Trust Foundation

Income Tax exemption under Section 80G of the IT Act obtained

2000: Recognised by Govt. of India as an Education and Training Center for severely MH Children
2001: Indian Pioneer of Pediatric Hyperbaric Oxygen Theray for hypoxic brain injury in chlidren
2003: Invitee speaker at the 3rd International Symposium on the use of HBOT in Brain Damaged Children.
2003-2006: Double Blind Randomized Clinical Trial on use of a Unani Formulation in CP for Cognitive improvement in CP children, under CCRUM, Ministry of Health, Govt. of India,
2006: FCRA clearance from Govt. of India, to receive contributions and sponsorships in Foreign Currency
2006: Started soft chamber low pressure ambient air Hyperbaric Therapy for first time in India
2007: NR2CON Organized: an international conference for Neural Repair and Neuro Rehabilitation, attended by 600+ delegates and the who's who of Neuro-Rehabilitation in India and 7 International scientists in this field.
2010: Hyperbaric Doctor of the year 2010 Award at the 7th International Sympsium on HBOT and the Healing Brain: at Irvine, California, USA.
2012: Healthcare Excellence Award from Times Research Media
2013: Spirit of Humanities Award for best Indian NGO in the Field of Neurology awarded by AmeriCares Foundation (americares.org)
2014: The Undersea Hyperbaric Medicine Journal, the foremost journal on HBOT, in its March 2014 issue, published our platform-independent paper on use of HBOT in using standard Rehab alone or supplemented by HBOT at 1.3 ATA with ambient air, or 1.5 or 1,75 ATA using 100% oxygen, supported by a lengthy editorial.
2017: More than a dozen International publications and half a dozen each Presentations Internationally and Nationally on our pioneering research to reactivate ailing brain in Cerebral Palsy using repetitive transcranial Magnetic Stimulation, including establishment of pediatricprotocol, safety, degree and types of benefit, under DST, Govt. of India
We are now studying computer-assisted Neurofeedback under EEG monitoring, Regenerative Medical Therapies, Biomedical Interventions in specific Neurodevelopmental disabilities.